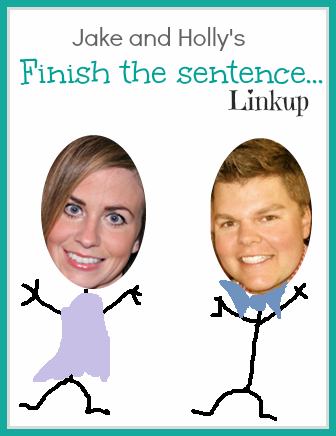 Today I thought it would be fun to link up with
Holly
and
Jake
for "Finish the Sentence". It might give you some insight into my life.
If I had one extra hour in the day... Sleep or eat. Nothing different from the other 24 hours. Amen.

I wish my name... wasn't misspelled all the time.

I think anything chevron is... cute as can be (at least most of the time), I'm kind of in love with it.

My last nightmare... was that something happened to my son. It took me forever to go back to sleep, I just couldn't shake it.

Sometimes... I blog while at work... hint hint.

My last meal on earth would be... Mom's fried chicken and gravy! YUMMY

I would much rather... do dishes than laundry.

Mayonnaise... DISGUSTING!! I hate it!

10 years ago, I didn't think... smartphones would exist. Does anyone else remember watching Zeon Girl of the 21st century on Disney channel? I thought that phone thing that she carried around was so cool that it would never happen. Enter iPhone.

Selfishly... I want to quit work and stay home with my baby.

My favorite show on TV right now... Drop Dead Diva.

And, George Zimmerman... No comment, but I am praying for everyone involved in the situation.